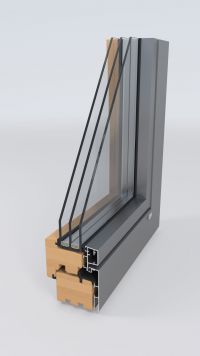 The windows and sliding doors for 118 are being provided by Unilux, a German company known for the energy efficiency of their windows and sliding glass doors.  The decision to use triple glazing over double glazing will also significantly improve the sound attenuation of the windows.
It is the overall sense of light and spaciousness provided by the combination of the high 10-foot ceilings, 8-foot solid single-panel doors and the over-sized windows that makes 118 a unique living environment. Not to mention the "framing" of the city and water views made possible by the windows.
Beyond energy and sound advantages, Unilux windows bring additional aesthetic and functional benefits:
Aesthetic Benefits
The over-sized aluminum-clad wood Unilux windows are Scandinavian Pine with a clear finish, and have stainless steel handles and hardware.
The windows are huge—as large as 3'4" by 7'7" – and yet, they do not extend all the way to the floor, allowing for a low wall that provides a sense of privacy for the inhabitants.
Unlike most sliding doors which leave an exposed vertical ledge of the slider when the doors are open, the Unilux doors fully "nest" behind one another creating a wide opening and a clean sleek finished look.
Functional Benefits
The windows open both vertically and horizontally, not a feature found very often in the US, but very common in Europe.
The Unilux windows utilize the European "tilt-turn" approach to opening:  with the handle turned 90 degrees, the window opens "in" like a door (making cleaning easy); with the handle at 180 degrees the window tilts out from the top, providing ventilation with minimum room intrusion and no risk of wind damage.


To fully appreciate the added value of the Unilux windows and doors, visit the 118 Sales Center where you can test the tilt-turn system, as seen above in photos with Erin Plummer of Hancock Lumber (left), 118 developer Susan Morris (center), and Eric Murphy of Unilux (right).
Don't be fooled by the size of the demo window, however; the full-size windows are being installed now and their height makes use of the 10-foot ceilings to bring in the light and views. (Actual windows are also in a light pine.)