Four Different Floor Plans
Choose from 4 different floor plans, offering 2-3 bedrooms plus a den. Every plan includes two and 1/2 bathrooms.
Every home is on a corner of the building, offering light at different times of the day and views in two directions.
Every home has a private large deck, accessible directly from the living area.
Square footage at 118 means  the actual "livable space."  As the homes are designed all on one level, there are no stairways and only one hallway. These are some of the ways in which one-floor living differs from a multi-level townhouse.
No residences remain. The 12 homes began at $600,000 for well thought through 1500 square feet of "livable space," and the most generous in space and flow were over $1 million, including 24 by 24 rooftop terraces with panoramic views.
View the plan for each floor of the building below.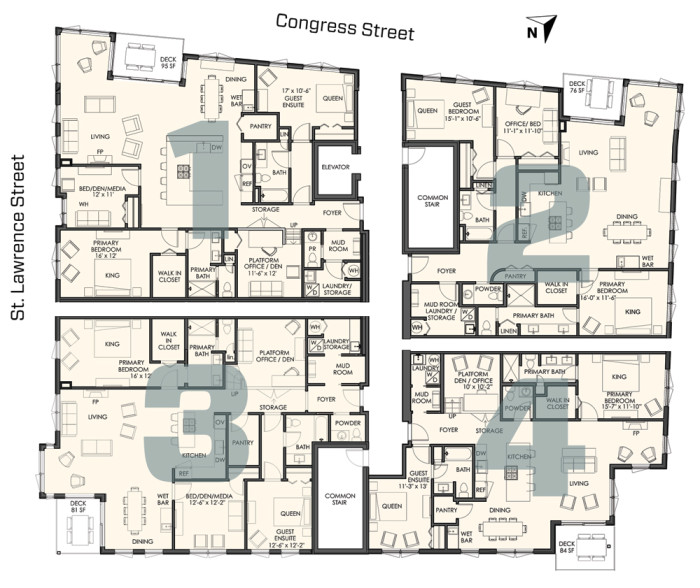 The 118 Building Ground Floor Plan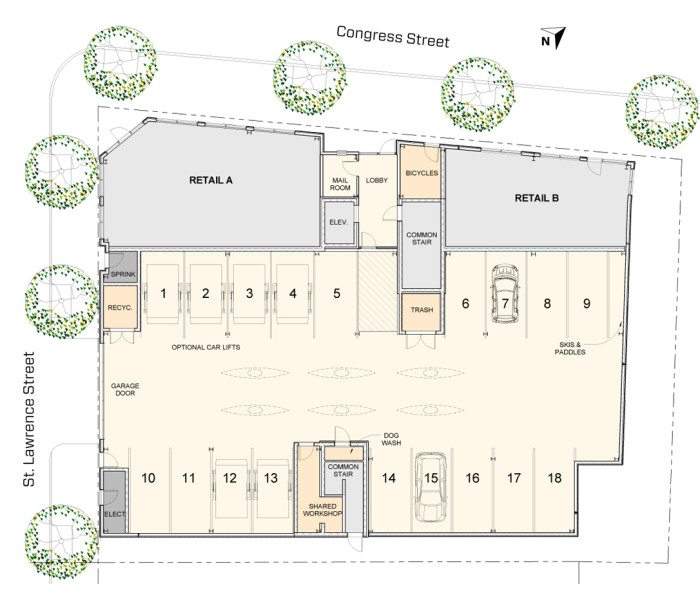 118 Residents' Shared Amenities  Indoor parking: Unlike most condominium buildings, at 118 there is the opportunity to buy a second parking spot or a car lift so that two cars may be stacked in one parking space. The ground level has 18 parking spots for 12 residences.
High Speed Elevator: There is easy access from both the lobby and the indoor parking to the elevator which quickly takes you to your floor where there are only 4 residences. The hallways are extra wide and display Maine art and custom-made residence doors. There are also two staircases in the building for quick access to each of the 4 floors.
Storage:  118 offers unique benefits to its residents such as a shared workshop for tinkering on projects, a dog wash (also great for hosing off sports gear), and storage for kayaks, bicycles, paddles  and skis. Each parking spot include a private storage unit.
More about the building and features