Location & Neighborhood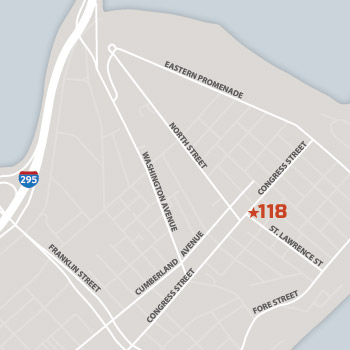 118 is at the heart of one of Portland's most vibrant, eclectic and sought-after neighborhoods: Munjoy Hill. The Hill has much to offer—panoramic ocean views, the Eastern Promenade, treasures from Portland's rich history, architectural character, locally-owned shops and restaurants, an arts scene, and great neighbors—some from families that have lived here for generations.
We encourage you to come to the peak of Munjoy Hill. Admire the views, take a stroll, do some errands, and have a coffee or a meal. Experience life at 118.
118 Congress Street; Our location makes it easy to get in, get out and get around town by foot, bike or car.
This could be your neighborhood
As a 118 resident, you'll enjoy easy access to urban amenities. Neighborhood hot spots are all within blocks of your door. Portland's Eastern Promenade  is a stone's throw. And the Old Port, Arts District, and Back Cove are within walking distance.
You can work out at a local gym, go for a paddle or swim at East End Beach, enjoy a latte at a Hilltop Coffee Shop and you won't even have left the neighborhood.
You're steps from the St. Lawrence Arts , a popular venue for music and home of Good Theater; acclaimed and popular restaurants such as Blue Spoon, and the Front Room; and gourmet groceries and baked goods await you at Rosemont Market.

This neighborhood is the perfect complement to the unique space that you will call home at 118. Entertain in style or relax with a beverage on your private outdoor deck as the city unfolds around you.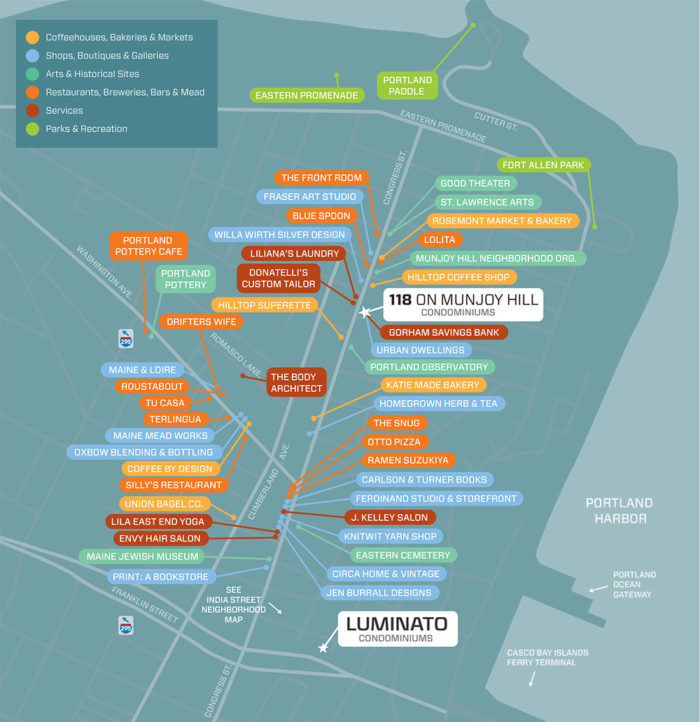 Download this Munjoy Hill map + directory
Print it out and you'll have a handy guide to all of the amenities on Munjoy Hill.
Enjoy a visual tour of the Munjoy Hill neighborhood