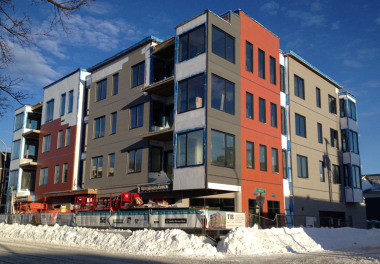 Nichiha was chosen to create a customized color scheme that ties in with the Congress Street streetscape and also provides a state-of the-art innovative moisture management system.
Nichiha makes fiber cement Architectural Wall Panels (AWP) in a wide range of textures, colors and finishes.
The fiber cement core, clip installation system, and sophisticated drained and back-ventilated moisture management system give the AWP a distinct advantage over most traditional rain screen materials. In addition, these panels ensure there will be no rotting, no warping, no pest concerns and no delamination.
The recycled content in the product also was a factor to 118's decision to use Nichiha on the exterior.
To learn more, visit the Nichiha website.