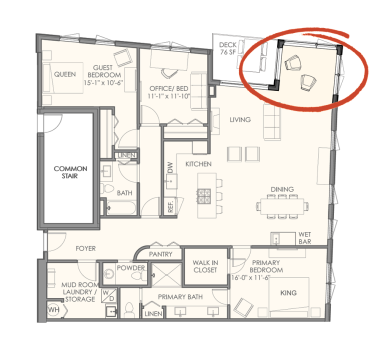 At 118, your home will have a glassed-in observatory for a world of views. Watch the city unfold around you. Check out the changing scene on Casco Bay. Maybe even catch a view of the White Mountains on a clear day. Furnish this alcove with two comfortable chairs that swivel to see the sun rise and set. Or have dinner for four.
118 offers four different floor plans. There is one of each layout on each of the three floors. To the right is the plan of Unit 202, below is the rendering of the 202 observatory, with views of Casco Bay off the Eastern Promenade.
And if you're in one of the 01 units, the historic Portland Observatory will be featured in the views from your own observatory!
Contact us for more information, including plans of all remaining units and details on the building amenities.