What is a "state-of-the-art" energy efficient system? The heating and cooling at 118 will be provided by a Variable Refrigeration Flow (VRF) System.  A refrigerant solution will flow to each unit, providing either heating or cooling at any time, on demand.  The returning refrigerant will be "tempered", i.e. heated or cooled as necessary by a system of heat pumps on the roof.  This is one of the most energy efficient ways to mechanically heat and cool a building available today.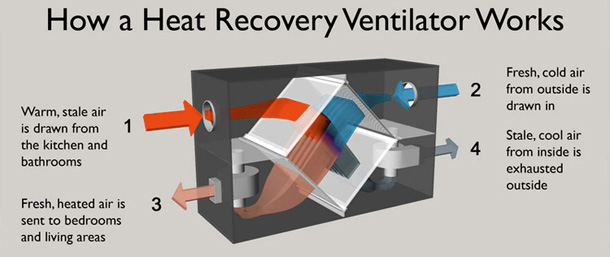 In addition, the system will facilitate extra energy efficiency by utilizing the heat removed from one home calling for cooling (for example, a southwest-facing unit in the afternoon) to provide heating to another home that might require it (in this case, a northeast-facing unit in the afternoon shadows). Our engineers have estimated that the heating and cooling costs for the building could be reduced by 20% based on this sharing.
Each unit will have two separately controlled interior zones. A general zone will control the primary bedroom area and a second zone will control the living, dining and kitchen areas, with other rooms in the condo tied in as appropriate. Heating and cooling are delivered by a forced-air duct system in the ceiling; the duct units are located in areas such as hallways, closets and baths where the ceilings are lower than the 10 foot height 118 features in most areas.
In discussing heating efficiency, it is necessary to get a little technical and to highlight the efficient building "envelope." The energy code only requires a R-13 for a typical house exterior wall. Since 118 is a commercial building, an R-19 is required. 118 is providing R21 in the cavity wall and R12 continuous insulation at the sheathing. This is in combination with the super-efficient Unilux windows.
In the event of extremely cold weather, additional heat can be added using hot water from the gas-fired domestic hot water heater in each home. A pipe leads from each unit's hot-water heater to the air duct.
An additional, unique benefit of this system is that while most of the desired heating and cooling is provided by central units in order to gain efficiency, software built into the system will track how much heating and cooling is used by each unit. This means that the electric bill can be allocated to the individual home owners based on their usage. The billing will be handled by the 118 association management company.