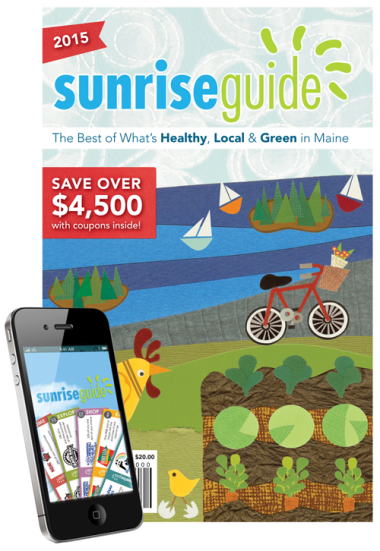 The SunriseGuide recently launched a mobile edition. It provides instant access to the special offers when on the go! The mobile edition makes it easy to find what's close by and keep local favorites right on phones.
118 residents are each being given the mobile app and a print copy of the SunriseGuide as Welcome Gifts to Munjoy Hill and the greater Portland area. Developers, Susan Morris, Chip Newell and Ed Theriault believe in supporting local businesses and making Maine more sustainable and
Heather Chandler launched SunriseGuide nine years ago because "I wanted to create a resource that made it easy for residents to find and connect with Maine's best local businesses, businesses that have committed to providing a more environmentally friendly or healthy alternative for our community."
118 residents will find offers from favorite East End locales such as Rosemont Market, Lila East End Yoga, Ten Ten Pie, Ferdinand, Portland Food Coop, Portland Paddle, Coffee by Design and Union Bagel Company. And those are just the ones within 10 minutes of 118.