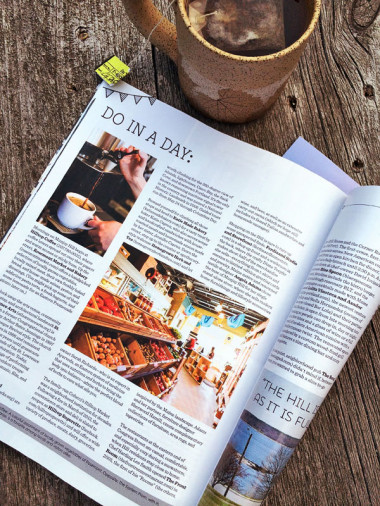 In the premiere issue of Old Port Magazine, we were delighted to find the story, "Life on the Hill." Pick up a copy for a history and tour of our neighborhood, and profiles of a few neighbors. It perfectly captures the spirit of life here.
There's no escaping the ocean on Munjoy Hill. Even when it's out of sight, it slips into consciousness—when you catch the measured flash of Portland Head Light through a window at night, or hear the foghorn wail across the bay in a storm, or wake up to a salty cloud rolling up the hill on a sunny summer morning.
We know each of the "Do in a Day" businesses well, as they are within just a few minutes' walk of 118 on Munjoy Hill. If you live here starting spring of 2015, they'll be your neighbors, too. (See the neighborhood page for a downloadable map of the neighborhood.)
Also don't miss the July/August issue of Portland Monthly Magazine, which has a restaurant review ("Grille on the Hill") of the newly opened Lolita that will make your mouth water.
We proceed to "Toasts, Pots, and Snacks" ($4 each for 3 for $10) and try a tasty steak tartare and a mix of local mushrooms with thyme and garlic confit. A little pot of velvet-smooth chicken liver mousse follows with full, round flavors. Spreading it on warm sourdough bread, the deal is sealed.