We hope you will join us in supporting Maine artists and craftsmen at the Thos. Moser Freeport Showroom June 19 for an opening reception of the Monhegan Artists' Residency 25th Anniversary Exhibition. Or stop by to see the exhibition anytime through October 14.
For details, see the announcement on the Thos. Moser site.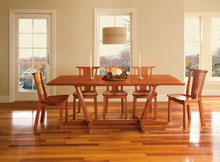 Our Sales & Selections Center features furniture by Thos. Moser —such as the Edo Trestle Table seen at left—and artwork from Maine artists. When you visit, you'll see some of the work in person and can browse catalogs to help create a space that's your own work of art. To schedule an appointment call (202) 257-9241 or contact us by email.