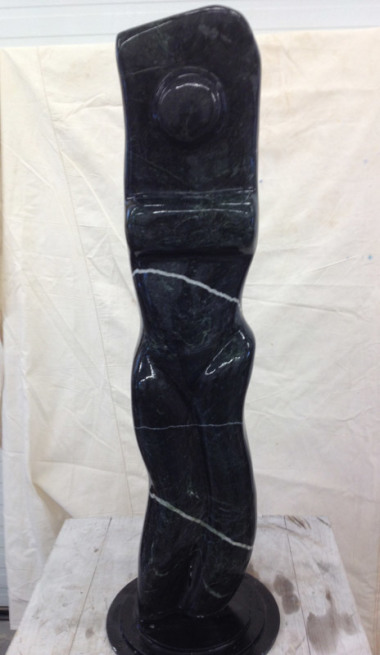 The third of three sculptures for the windows above the entrance facing Congress St. has been chosen. Dick Alden has been carving wood and stone for 25 years, full time, in mostly marble and granite for the past 3 years. He works at Starfish Studio in Boothbay Harbor.
When asked about his inspiration, Dick responds that renowned Maine sculptor, William Zorach, said it best: "Rhythm is a cosmic force…the sense of movement is deeply rooted, it is universal".  Dick enjoys the mentally and physically intensive process of carving and shaping his pieces to exude a rhythmic motion, balance and harmony in the final composition. The challenge is to capture that special spirit which each stone possesses.
See more of Dick's work in Portland at the Portland Art Gallery and in Boothbay Harbor at Studio 53.
Altogether four sculptures by Maine artists have been chosen for 118. They will be visible day and night from the interior and exterior, adding to the streetscape of Munjoy Hill.