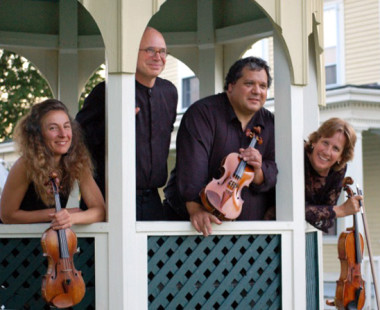 The DaPonte String Quartet  kicks off its 24th year with a concert a new venue in the East End.
"Enemies of the State" opens Nov. 5 at the DSQ's at the Jewish Museum at 267 Congress Street in the newly restored Etz Chaim Synagogue. Newly restored to make it fully handicap accessible, the turn-of-the-century immigrant era house of worship was earlier transformed into a museum as a testament to the Jewish families of Maine.
"We are delighted to have found this space," says the quartet's Executive Director Amy MacDonald. "Not only is it in a really vibrant part of Portland, with lots of free parking, it has an art gallery on the first floor, and the second floor is a great setting for chamber music—beautiful and intimate. I'm surprised how many people have yet to discover it."
She notes that the first concert is particularly appropriate for the new venue as it features quartets by two composers who were persecuted for being Jewish or fighting anti-Semitism.
The DaPonte String Quartet is Maine's premier string ensemble. Founded in 1991 in Philadelphia, it moved to Maine 20 years ago and now performs over 60 concerts a year, year round, from Presque Isle to Ogunquit. It was recently voted Best Music Group in Maine by the readers of Down East Magazine.
Tickets are $20 at Longfellow Books or www.DaPonte.org.