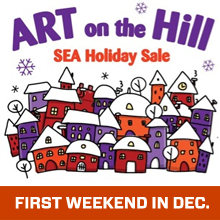 From December 5 to 7, join The Society for East End Arts (SEA) for their annual holiday sale extravaganza held at the East End Community School, a short walking distance from 118 on Munjoy Hill. Guaranteed you will be impressed by the caliber and selection of gifts on display. Find something for everyone on your list!
SEA is a Munjoy Hill–based organization of artists that seeks to promote awareness of East End Arts through networking and creating a wonderful thriving community on Munjoy Hill. SEA holds two annual events, the Open Studios Tour in July and the SEA Holiday Sale in December. There are close to 60 members!
Stop by the Open House at 118 on Munjoy Hill from 2-5 PM on Friday, December 5 then head for the Holiday Sale at the school from 6-9 PM. You may return on Saturday from 10-5 PM on December 6 and again 11-4 PM on December 7. Visit 118 on Munjoy Hill at a second Open House from 11-2 PM on December 7, then shop till you drop. From Hard Hat Tours at 118 to warm knit hats at the holiday sale.
For more information, visit the Society For East End Arts site.